Soccer is the world's most popular sport. That means a couple of things: One is that it is going to be covered extensively by sportsbooks, and another is that there are going to be quite a few major leagues around the world that people can bet on.
Here are just some of the soccer leagues that sportsbooks have odds on:
UEFA Champions League
Argentina - Primera Division
Brazil - Serie A
Columbia - Primera A
Czech Republic - Gambrinus Liga
Denmark - Superliga
England - Premier League
Finland - Ykkonen
France - Ligue One
Germany - Bundesliga
Greece - Super League
Holland - Jupiler League
Iceland - Urvalsdeild
Italy - Serie A
Mexico - Primera Division
Norway - 1 Division
Poland - Ekstraklasa
Portugal - Primeira Liga
Romania - Liga I
Russia - Premier League
Scotland - Premier League
Spain - Primera Division (La Liga)
Sweden - Allsvenskan
Sweden - Superettan
Switzerland - Challenge League
Turkey - Super Lig
Wales - Premier League
Oh yes, there is also our very own Major League Soccer, which is of course based in the United States.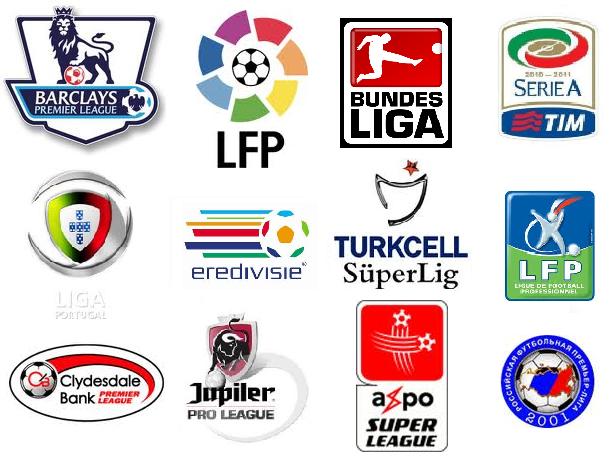 The above leagues are just a few of the many soccer competitions covered by online betting sites
In soccer, the common proposition to wager on games is the three-way prop. Here is an example of that, from England's Premier League:
Chelsea +225
Manchester United +138
Draw +242
As you can see, because of the presence of the "Draw" proposition, you can "take" with any of the three choices in this prop. If this was a one-way proposition, you would have a favorite and an underdog.
That is not to say that you could not turn these games into two-way propositions. In fact, depending on which sportsbook you're looking at, you can see a number of different goal "spreads" represented, with a favorite and an underdog:
Chelsea +1/2 -151
Manchester Utd. -1/2 +136
Here, the spread is a half a goal. So you will lay a price with Chelsea and win if they come to within one goal, while you will take a price with Manchester United and win it if they win the game by a goal.
You can bet on exact scores on these games as well. Take a look at this prop:
90 minutes plus stoppage time only
Manchester Utd 1 / Chelsea 0 +800
Any other result -1250
What this prop offers is the opportunity to bet on an exact score where Manchester United wins 1-0 and get paid at 8-to-1 odds (+800). If you want to bet on any other result, you would have to lay $12.50 for every dollar you wanted to win. And as for the notation at the top, this prop is for the full official 90 minutes of the game plus the stoppage time the referee extends onto the end of the game because of injuries, substitutions or delays of game.
Here is another sample prop:
90 minutes plus stoppage time only
Both teams score a goal -165
A team is scoreless +145
Obviously, there are any number of different game situations that could be the subject of action.
Customarily you will also find an over/under on goals scored in a game. And remember that there are not a lot of goals scored in a soccer game, so that probably makes totals betting a bit more difficult.
Over 2.5 Goals -116
Under 2.5 Goals +101
The goal total for each individual team is something you could see a price on too. In this Chelsea-Man United game, there are props posted. For Chelsea, the price is -303 for the team to score over a half a goal (which means they will score, period) and +252 for an "under" in that category, which means, essentially, that they will be shut out.
There are also futures prices on many of the leagues; i.e., on which team will win the championship. At this frozen point, this was an example of the field for the English Premier League:
Chelsea +210
Manchester City +215
Manchester Utd +265
Arsenal +1600
Tottenham +1950
Liverpool +2050
Everton +45000
Newcastle +125000
Aston Villa +150000
Southampton +175000
West Bromwich +200000
West Ham +200000
Swansea +200000
Fulham +200000
Sunderland +250000
Stoke +350000
Norwich +400000
Cardiff +600000
Hull +750000
Crystal Palace +750000
As well as the various domestic leagues and cup competitions, soccer fans may also bet on all major international events such as the World Cup and the Euros, the Champions League, African Cup of Nations, Confederations Cup and numerous others.
The World Cup, which takes place every four years, is literally a betting bonanza. It consists of 32 teams, and they are divided into eight groups of four teams each. This is a large futures field where customers bet on who the eventual winner of the World Cup will be, and this is constantly being updated. Each group has its own odds as well.
That is obviously not where it ends. You can bet on who the high scorer in the tournament will be, and you must factor into that the possibility for the player and his team to stick around long enough. You can also wager on the players who will be the high scorers in each group. This requires bettors to have a wide-ranging knowledge of the great players from around the world, although interestingly enough, the very best players have a tendency to show up in the best leagues, whether it is the Premier League, La Liga, Italian Serie A or some other top league.
Of course, there are a lot of individual games to bet on as well. These include a money line and a total, along with a lot of variations, not unlike what is described above. And at those sportsbooks that want to promote more and more action, there are player propositions for many of these games.
If you conducted a survey of soccer bettors, you might be surprised to find that even though they may live in one country, they bet quite a bit on another country's league. Even in the United States, where Major League Soccer does not get an awful lot of attention (despite the L.A. Galaxy's signing of David Beckham), there is quite a bit of action on international leagues.
One of the reasons for this is clearly that we have an explosion of information that is available, literally in real time, over the Web. So it is really no problem for someone in the U.S., for example, to read about the Bundesliga, or for the United Kingdom soccer bettor to find out what's going on with any number of leagues in South America.