Ah, college basketball. While NCAA Basketball betting is a mainstay throughout the late fall and winter, interest thoroughly picks up in March for the 68-team elimination tournament. Few events match the magnitude or betting action of March Madness and the road to the Final Four. Click the image below to see all the teams involved.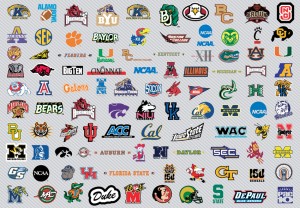 As a resident of Pittsburgh, PA, I've always found myself drawn to the tough hard-nosed basketball of the University of Pittsburgh's Panthers. Big East basketball was a large part of my life during my college years, and now that Pitt has moved to the ACC – it is a little bittersweet.
I think that is why the college game has become so enthralling to watch over the years. Instead of glamor and the million dollar salaries of the star-centered NBA – the college game has always been noted as the game for the purists, despite the less superior athletes.
Nearly every community across the country has a Division I team to root for and come tournament time these small town favorites can be the nation's next Cinderella. While million dollar contracts and endorsements are not a reality for 99% of the game's players, every team has an opportunity captivate the country for a few weeks in March.
While the tournament gets all the press, college basketball is one of the best markets for bettors who know their stuff in regards to the sport. With dozens of Division I conferences, college basketball is extremely random with new faces coming and going every off-season. That star freshman whom you may have never heard of can change the course of a season for a university's basketball program.
Since many of these markets are less bet than most professional leagues, savvy college basketball bettors can have a field day. There are many handicappers that swear by college basketball and make their living solely off the college hardwood.
The Season and March Madness
Keeping tabs on the conference play and personnel of each of the college basketball teams in the country is not easy for oddsmakers or bettors. There are 351 Division I teams in 32 different Division I conferences.
However, only a few of these teams or conferences get national attention other than a select few. The Big East, SEC, ACC, PAC 12 and Big 10 are generally known as the top conferences for basketball, but with so many teams changing conferences in the past few years, no one is sure who has the most dominant conference.
There's around 30 games per season for most Division I programs. Most of the schedule is against teams from the same conference, but each team also has an extensive non-conference schedule. Non-conference schedule will vary in difficulty depending on each program.
After the 30-game or so regular season, the top 8-10 teams in each conference will face off in a conference tournament to crown a champion. If a program wins their conference tournament, they will automatically be qualified for the NCAA Tournament.
The NCAA Tournament is a 68-team single elimination bracket style tournament which determines the champion of NCAA Division I college basketball. It starts in late March and ends around the first week of April and is played at a number of arenas and stadiums across the country. The 68-team field is whittled down to the Final Four and then to just two over several weeks, where a champion is decided on a neutral site.
For those teams that miss out on the NCAA Tournament, the National Invitation Tournament (NIT) is another single-elimination tournament for those teams that miss out. It garners much less prestige than March Madness and has been jokingly called the "Not Important Tournament" by some bettors and fans. Still, the NIT is a widely bet event by most college basketball bettors. Many like it more than March Madness because the markets may garner less of a focus by the oddsmakers compared to the much more heavily bet NCAA Tournament.
March Madness Betting Tips
Since the tournament is such a massive part of college basketball betting, (many bettors only bet on the tournament) I've done some extra research on specifically tournament betting which should help bettors cash more in March.
Home Court Advantage?
Since teams will be playing on neutral sites, one of the biggest advantages utilized by home teams in the game is now gone. But wait, not so fast. Even though it seems to be the case on paper, each year the scheduling seems to provide an advantage for certain programs due to where the games are being played.
If an early round game is just a few hours from the team's home arena, bettors can guess and usually rightly so that the game will be dominated especially by one team's fan base. This changes the atmosphere of the game dramatically; especially if the said team has a large following and is a noteworthy program.
Look to Fade Public
I do not want to make this too general because blinding fading the public is a recipe for disaster when betting basketball. However, when tournament time rolls around most square bettors are more familiar with the Top 25 and famous programs rather than the smaller mid-major programs.
If they bet, they will likely go with a top team that is more familiar to them rather than the less researched less widely known teams in the tournament. As a handicapper, it is crucial to know the rosters of these unsung teams and take advantage of this knowledge in the betting markets.
Game plans are Crucial
While top ranked teams in the tournament almost always have far superior physical talent than most their lower seeded opponents – the Road to the Final Four is about matchups more than anything.
A fast guard oriented ball movement offense may have a field day against slow lumbering teams that want to slow the game down and lock down their opponents in the half-court. Some teams just match up much better than other teams. This doesn't necessarily make them the better squad or even assure a victory, but it is a fair bet that the game will be close, and bettors will have a better chance for a cover.
General Betting Strategies
While much of these strategies and tips can be used for basketball betting around the world, NCAA basketball is a different animal than the NBA or even professional European leagues.
Ultimate Home-Court Advantage
While some fans will say the NFL has the toughest atmosphere for opposing teams, anyone who knows sports should have no doubt that the atmosphere for college basketball games can be the toughest in all of sports.
While the arenas are smaller than most NBA environments, the student sections are rabid and inches from the court. They yell sophisticated chants at opposing teams' players and in many cases, rarely sit down or stop chanting throughout the entire game. This type of climate is tough for opposing teams to play under, despite how talented they may be.
I've lost count of the number of times a top ranked team has headed into a tough away game only to lose to a much lesser opponent. Home-court is a massive aspect of college basketball and matters much more than a home or away game in the NBA.
In the same vein, how a team plays on the road, especially against tough conference opponents is a terrific way to determine how strong a team actually is. Other than postseason action, these situations will likely be the toughest tests most teams will face during the regular season.
This video of Taylor University fans shows how intimating an atmosphere can be for away teams having to deal with home fans' various traditions and whacky quirks.
Freshman Power
College basketball in 2013 isn't your father's or even grandfather's college basketball. Today, freshmen are often immediately hoisted into the starting lineup and are the best and most dominant players on the floor.
Having a solid knowledge of who has the best recruiting class each season should help bettors wager on college basketball's best teams, perhaps before they start making waves with their play. Gone are the days when freshman languish on the bench. If they can contribute, coaches now have no qualms about letting the young guys lead their offenses. While many teams have a solid core of upperclassman which propel them to tournament land, just as many have hit lighting in a bottle with their incoming recruiting class.
Less Travel, Fresher Bodies
Unlike the NBA's long 82-game schedule, and long cross country flights, college basketball's most talented don't have to deal with as much wear and tear as their professional counterparts.
Instead, they play about half as many games (if they are lucky) and travel much smaller distances to play opponents. Even their non-conference games are usually close by and let's also not forget that these players are young and at the beginning of their careers.
Their shorter schedule and smaller amount of travel keeps them fresh and able to bounce back quickly from a workout. The NBA betting concerns of veteran teams being tired or coming off back-to-back games on back-to-back nights should not be a concern when betting the college product. Unless a player is injured, its unlikely fatigue will be a factor for most well prepared and well coached teams.
Overnight Lines
Overnight lines might not be relevant to some players, but I like a book that will take at least a small chance with posting an early line, even if they have night limits in effect. Also, this gives players an opportunity to bet a game before other bettors. Some books are stingy with their overnight lines while others seem to have the next night's games up in the early morning. It all depends on the book's policy. If having the first crack at a game is valuable to you, be sure check to see if the sportsbook has overnight markets.