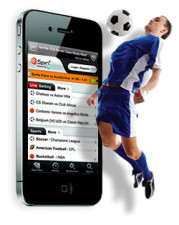 If you really think about it, the past decade or so has seen some rapid technological advancements that have major impacts on our everyday life. Chief amongst these advancements has been the cellphone, which is now more commonly known as a smartphone - which is really just broken down into iPhones and anything Samsung-related these days. With that, iPhone betting has started to take over the betting world nowadays.
When we moved from the old flip phones to the new-age smartphone, a whole world of possibilities was opened. Now, people were able to access websites that were typically only able to be accessed by a desktop or laptop computer on their phones no matter where they were. Wired and wireless internet connections did not necessarily matter, because your phone carrier's coverage was able to help you access every aspect of the web.
Thanks to increased access to the internet via smartphones, sportsbooks began staking their claim. Quickly, all of the big name online sportsbooks began promoting the fact that bets could be placed from smartphones. Around this same time, the Apple iPhone became the smartphone of choice for millions of people around the world.
Since then, iPhones and sports betting have gone hand in hand to develop a long, lasting relationship. Nowadays, placing sports wagers via your iPhone is as simple as can be. So long as you are able to access the internet, you are able to bet on sports.
How iPhone Sports Betting Works
When people hear about sports betting on iPhones and other smartphone devices, they often think that it is done via an app that can be downloaded from the App Store. While this is the case for some sportsbooks, it is not the case for the overwhelming majority.
In most cases, betting on sports with your iPhone is something that must be done through Safari or any of the other available web browsers. By simply navigating the sportsbook's website, you will then have all the tools you need to place wagers.
In almost every case nowadays, reputable sportsbooks will have a mobile version of their traditional, desktop site that is tailored to function seamlessly within your iPhone's web browser. After all, traditional desktop websites tend to be laggy and loaded with too much information for a small iPhone screen, so it only makes sense that a dedicated mobile site exists.
Something you will immediately notice about the mobile sportsbooks you are accessing from your iPhone is the fact that, despite their existence within a web page, they have the look and feel of an app. This is the case because it makes things infinitely simpler and more straightforward. Because of this, navigating to specific betting markets and specific propositions is extremely simplistic.
There are some sportsbook holdouts that, when accessed on an iPhone, simply load the same webpage that you will find when accessing the sportsbook from a desktop or laptop computer. This is not a good thing and will almost always lead to a sub-par user experience. If you plan on doing a lot of mobile betting from your iPhone, we suggest that you stay away from these sportsbooks until they have launched a dedicated mobile version of their site.
Types of Betting Available for iPhone Users
Though it may sound too good to be true, the fact of the matter is that just about any bet that can be placed from your desktop can also be placed on your smartphone. As recently as a few years ago, this was not the case as many sportsbooks only allowed for mobile betting on the absolutely most high-profile matchups and little else. Nowadays, the most reputable sites will offer betting on markets as popular as the NFL or NBA to those as obscure as the EHF Champions League (handball).
What's more, the individual propositions available for individual games and matches is something that might also have you taken aback. The reason for this is due to the fact that there are so many different betting options, and probably more than you might have expected. For a soccer match, for example, you might expect to see spread, moneyline, and over/under betting options.
What you might not expect to see, however, are betting markets for player propositions, segment betting (first half or second half wagers), and even team betting. For your average English Premier League match, you should not be surprised to regularly see between 50 and 75 different betting options. Often times there are even more than that.
Live Betting on Your iPhone
A new addition to the sports betting world in general, an iPhone betting specifically, is the existence of live betting. If you have never heard of it before, live betting is something that allows you to place wagers on a game, match, or event that is ongoing and happening right at this very moment. In the past, if you had not placed your wagers before the start of the match or game, you were, quite simply, out of luck; there were no more betting options.
Now, that has all changed. Now you are able to place live wagers as a game is progressing. Though the odds on live betting markets are in a constant state of flux, the option for live betting exists. If live betting on your iPhone is something you think might appeal to you, it would behoove you to do some research in order to figure out which sites offer the best live betting user interfaces and which ones leave a lot to be desired. This is something that can be done relatively easily. A general rule of thumb is that the more popular and highly-touted a sportsbook is, the better your live betting experience will be.
Funding Your Account is Simpler on an iPhone
As we have been alluding to this whole time, apart from the differences that are able to be seen, sportsbooks' desktop websites and mobile sites fulfill the same purpose. As an extension of this, any type of banking that can be done on the desktop site can also be done on your mobile device. Whether you are looking to make a deposit or cash out winnings, this is all able to be done from you iPhone.
In conclusion, the existence of iPhone sports betting has opened up the sports betting world to an entirely new audience. Though not many people are fully aware of this, any sports bet that you can make from in front of a computer screen can also be made via your smartphone device.
As time moves forward we anticipate that iPhone sports betting will only become increasingly prominent. Smartphones—and specifically iPhones—have become ingrained into our daily life, and as that grows ever truer we anticipate that placing sports wagers via your iPhone will only become more and more prominent.